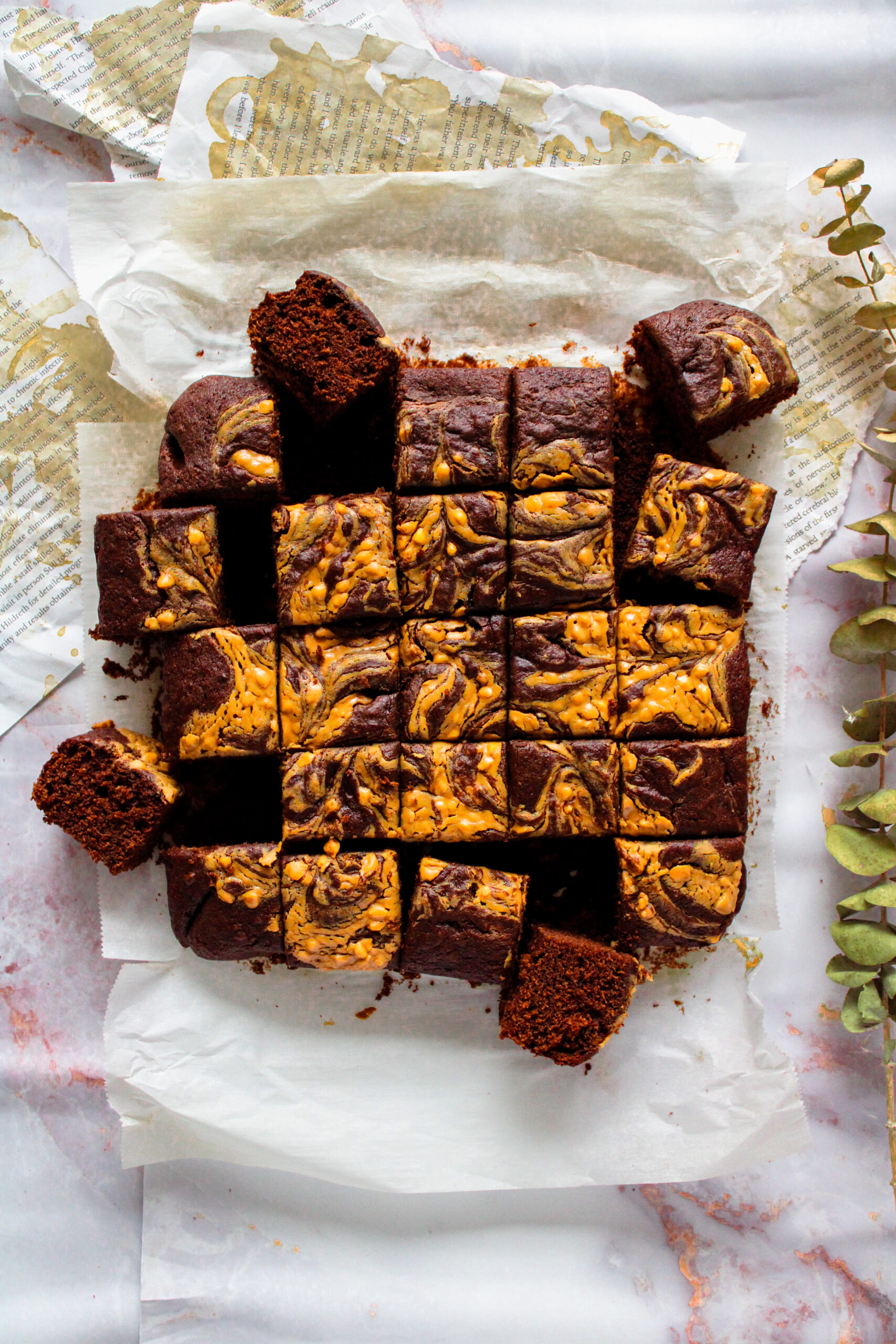 Soft, fluffy brownies enriched with bananas, and then topped with a peanut butter swirl. I'll admit, I used to be hesitant about bananas in dessert. Now, I don't get how I ever thought that. There's just something so compatible about bananas, chocolate, and peanut butter. Don't get me wrong though- I've always loved bananas. Bananas in dessert? Even better. When I made this Double Chocolate Banana Bread for instance. All the bananas, all the chocolate, and absolutely no leftovers. My hesitance was more so for desserts that were hiding banana in the background, an ingredient that could contribute it's moisture and consistency, but hide it's true flavor. I think we can all agree that banana is a hard flavor to "hide", which resulted in me trying several desserts and being confused about the strong banana flavor that wasn't advertised. All this to say: bananas need more appreciation in desserts. A weird platform to promote, but somebody's gotta do it!
Like so many banana dessert creations, this one was also started with the same dilemma: buying a bunch of bananas that ripened way too quickly and all at once. What's a girl to do? Obviously, make this batch of banana brownies and top it off with the prettiest peanut butter swirl. Obviously.
This recipe creates a super soft, fluffy brownie base. Just look at that texture in this next picture! It's spongy and soft, and pretty addicting if I say so myself. I bought these in to work the other day, and accidentally ate 3 slices by myself before announcing there was dessert to share. Oops.
For the topping, you can choose either a chunky peanut butter or a creamy one. I opted for the chunky version, because I love the texture of nuts in brownies. If I'm not incorporating them into the base themselves, I have to settle by adding them on top! To recreate the swirls, you only have to melt 1/2 cup a peanut butter for about 20 seconds in a microwave. Then using a spoon, carefully scoop spoonfuls on top of the brownie batter. Finally, using a knife or food thermometer, insert it carefully through the spoonful and swirl around until you get a desired effect. Make sure to limit how much you swirl, as you still want there to be sections of peanut butter on top. It's easy to get carried away and accidentally end up mixing the peanut butter directly into the brownie batter below!
Now, I bet you guys have a bunch of bananas that are just waiting to be used up in a decadent chocolate recipe, so go forth and get to baking some delicious, soft brownies!
Banana Brownies + Peanut Butter Swirl
Ingredients
2

ripe bananas

2

tsp

espresso powder

1/2

cup

unsalted butter,

softened

1

cup

granulated sugar

1/2

cup

cocoa powder

1

tsp

vanilla extract

1

tbsp

honey

1/2

tsp

baking powder

1

tsp

baking soda

1

tsp

salt

2

large eggs

1

cup

all-purpose flour

1/2

cup

peanut butter, (chunky or smooth)
Instructions
Preheat oven to 350F. Line a 9×9" cake pan with parchment paper and set it aside.

In a mixer with the paddle attachment, add ripe bananas. Mix until bananas are mashed. Then add softened butter and espresso powder. Mix until well combined.

Add in granulated sugar, cocoa powder, vanilla extract, honey, baking powder, and baking soda. Mix together until well incorporated, about 2 minutes.

Add in the salt, eggs, and flour. Mix again until no clumps are left. Pour batter into the prepared cake pan.

In a microwave-safe bowl, add in the 1/2 cup peanut butter. Microwave for 20 seconds until smooth and liquidy. Then drop spoonfuls of the peanut butter on top of the batter. With a knife, swirl the peanut butter into the batter. Do not over-mix the peanut butter into the batter as you still want the swirls to be visible and stay on top.

Bake for 50-60 minutes or until a knife inserted into the center comes out clean with a few crumbs attached.