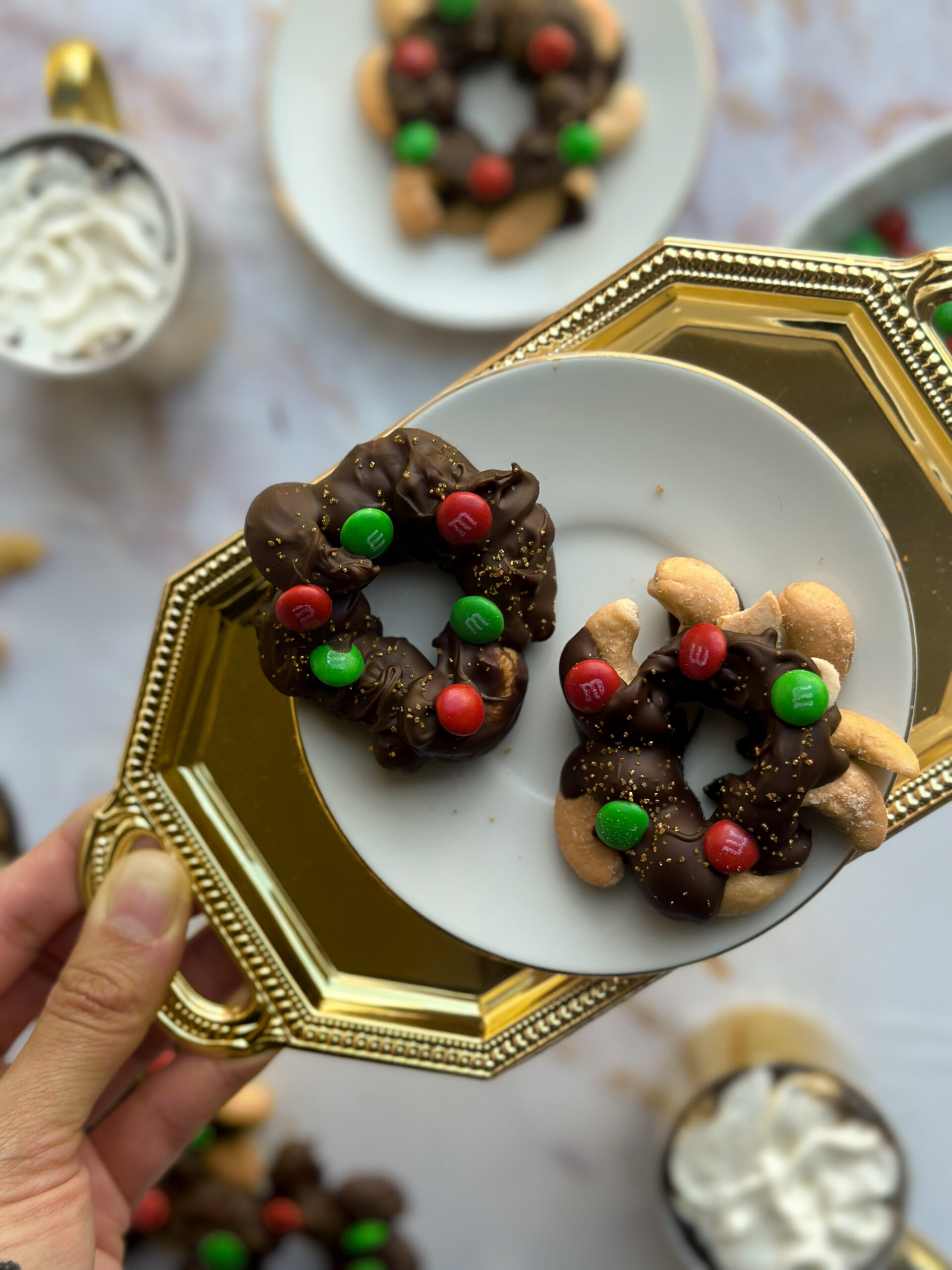 While I don't especially celebrate Christmas, I am in love with the holiday season. What can I say? Christmas cheer is real and it's super contagious! Everyone is in a friendlier, happier mood. The weather is chilly, there is decadent hot chocolate everywhere. Not to mention all of the delicious holiday baking! Cookies, biscottis, cakes, and all types of treats. Now I normally bake this quick chocolate walnut fudge, it's a classic that is perfect for any holiday celebration. This year, however, I wanted to change things up a bit. Inspired by all of the Christmas themed bakes that have filled my instagram recently, I wanted to create something new. As with my previous bakes, I'm not about solely focusing on aesthetic. Cupcakes with a tower of whip cream, but no taste? Sorry, but count me out. I'm all about decorating with flavor and taste. If you're going to add something on top, it should add to the overall profile of the dessert, right? So this dessert needed to be tasty and, of course, simple.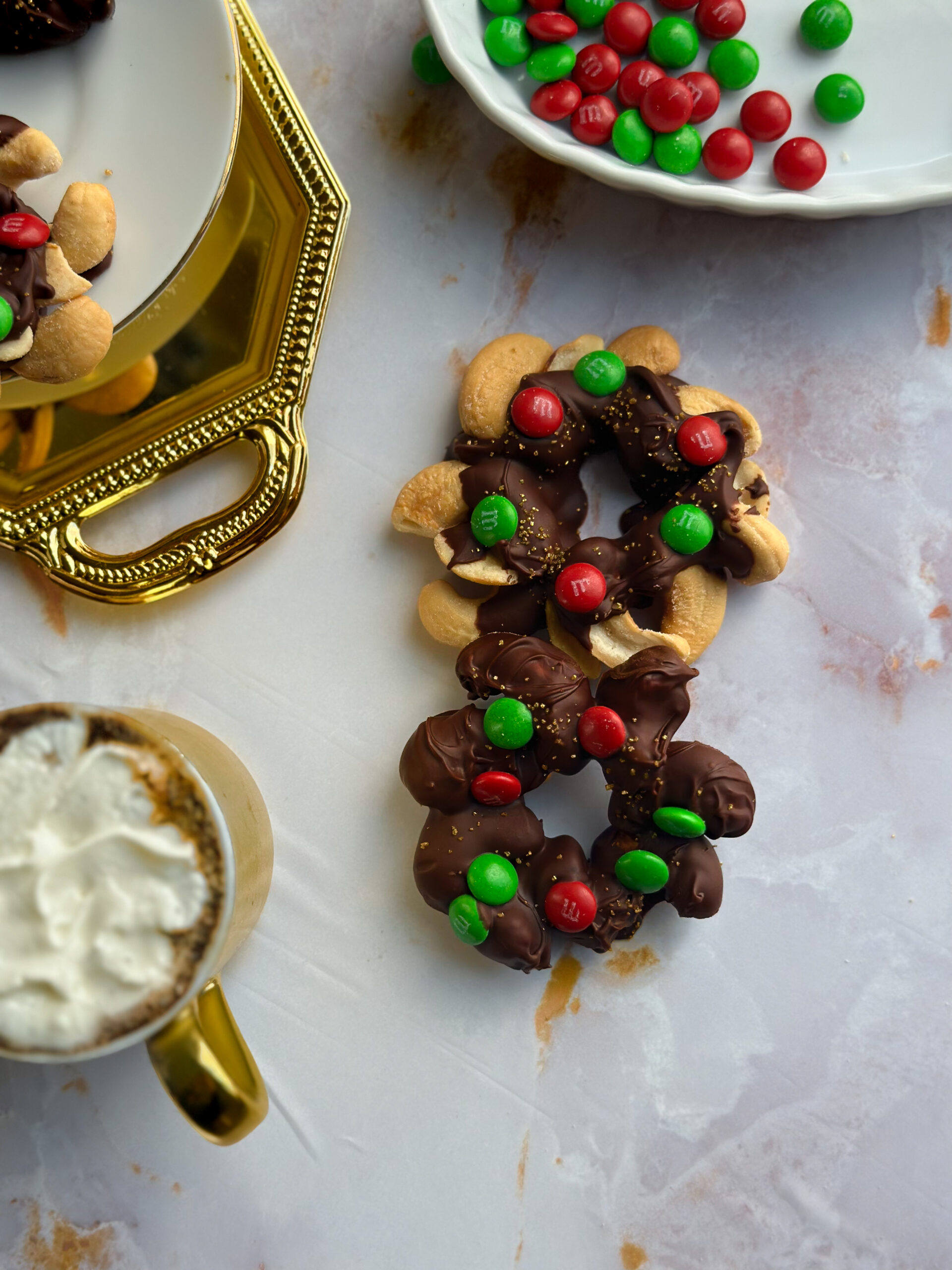 This recipe only calls for 3 ingredients: nuts, chocolate, and mini m&m's. Simplicity at it's finest. Mini m&m's (especially the holiday themed green and red ones) are everywhere during christmas, and just one tube is enough for a batch of these cluster wreaths! If you're feeling more festive, you can always opt to add some cute christmas sprinkles of course.
Now I know that baking during the holidays can get stressful super quickly. There's multiple dishes to cook, treats to bake, and wandering guests to entertain! That's why (like many of my recipes), this needed to be simple andddd quick. An easy dessert that would be delicious but also catch the eye of everyone at the table. All you have to do is set up a double broiler and melt your chocolate. Then, on a parchment lined baking tray, create the cluster wreaths! You can do this by dipping each nut halfway into the chocolate and arranging it in form on the tray. Otherwise you can dump the entirety of the nuts into the chocolate until coated, then use a fork to take them out and drop them into a circular wreath shape on the tray. Both options are shown here, and they both turn out festively adorable! For the final touch, drop red & green mini m&m's on top (or other christmas sprinkles of your choosing) and place in the fridge to set. I told you it was simple, right?
Chocolate Cluster Wreaths
Ingredients
8

oz

(or 1 cup) cashews or nuts of choice

8

oz

(or 1 cup) chocolate

1

tube

holiday mini m&m's (red & green only)
Instructions
Set up a double boiler. You can do this by placing a small pot of water on medium heat. Add a heat-proof bowl on top, filled with chocolate. (Make sure the water does not boil over but stays hot enough to melt the chocolate in the bowl.) Stir until the chocolate melts completely.

On a parchment lined baking tray, arrange the cashews or nuts of choice into a wreath arrangement. Use a spoon to pour the chocolate in the inner portion of the wreath created. Additionally, you can mix the nuts into the chocolate and use a fork to place the nuts into a wreath arrangement.

Place green and red mini m&m's on top of the chocolate as desired. Place tray in fridge for 20 minutes, or until chocolate is firm to the touch.