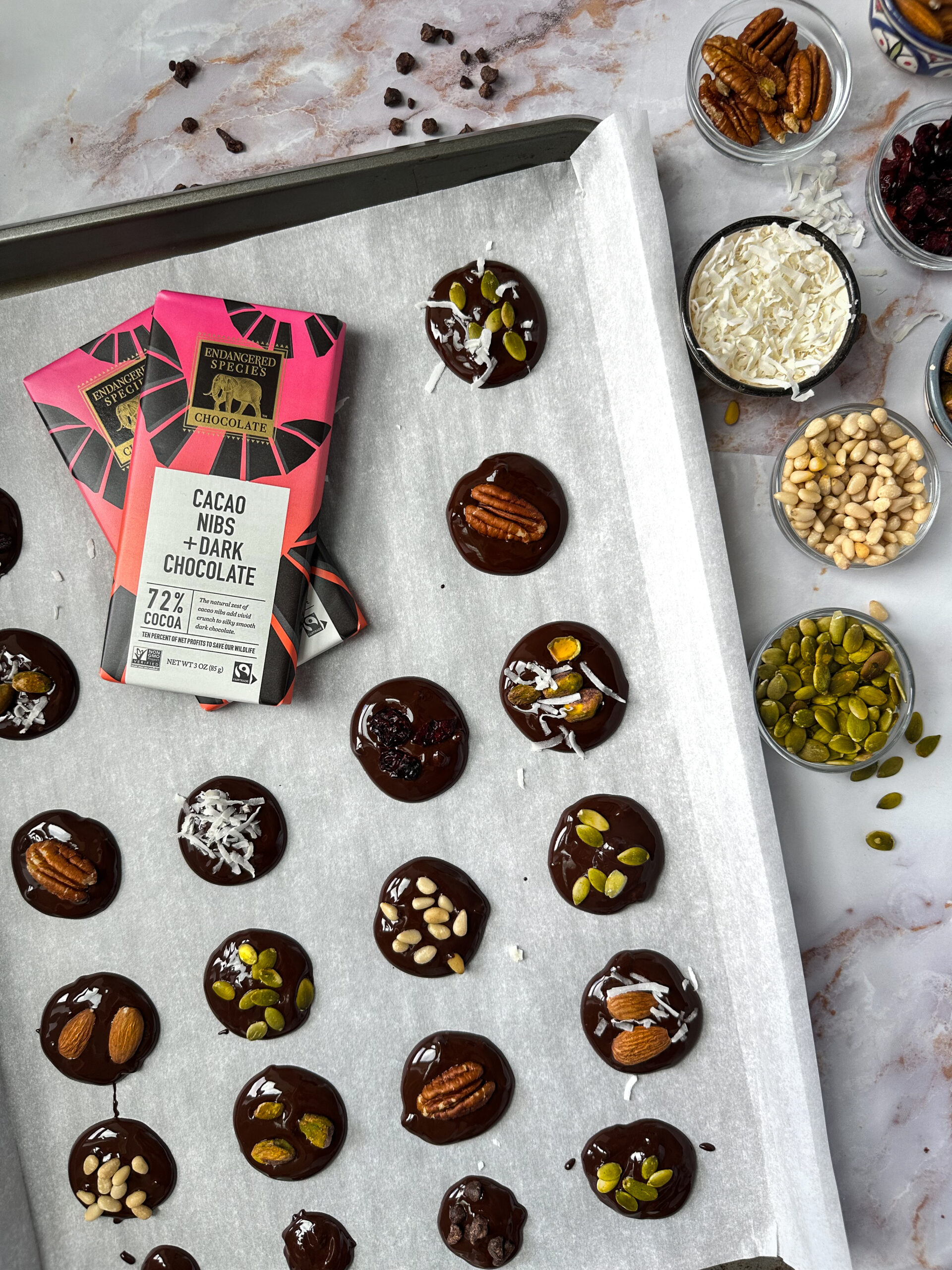 ALL OPINIONS AND REVIEWS ARE 100% MY OWN.
---
French chocolate mendiants. Why have these not caught on around here?! Bite sized chocolate coins with pumpkin seeds, almonds, coconut flakes, or pecans. A dessert that requires minimum ingredients, no baking in the oven, and only a few minutes to throw together. Now, not only are these super simple to make, but they're completely customizable! The base is made of quality chocolate, and whether you choose to top them with nuts, dried fruit, or seeds, they will always be a hit! I've made these several times now, always keeping a good stash of them in my fridge. Those moments when you really crave chocolate dessert but don't have the energy/time to bake something up? Yep- enter your new favorite go-to creation.
The beauty of this recipe is in it's simplicity. All you need is pure quality chocolate and a handful of your favorite toppings. The base of these mendiants is made with Endangered Species Cacao Nibs + Dark Chocolate bar. That means this dessert foundation is bold, dark chocolate studded with bursts of cacao nibs. Anything on top is really just an added bonus, amirite? Now when the focus of your dessert is chocolate, you can't skip out on the quality. Using Endangered Species means you know what you're bringing to the recipe. You're getting real cacao with no additives, fats, or artificial flavors, because the only additions should be the ones you choose to sprinkle on top! Not only that but with each chocolate bar purchase, you're putting your money towards positively impacting diverse species, habitats, and humanity around the globe! The Cacao Nibs + Dark Chocolate bar is focused on bringing awareness to the plight of the Marianas Flying Fox (you can spy it's silhouette on the cover). Chocolate with a mission? Count me in.
Recipes that require less ingredients are already a win in my book. This recipe only calls for 2 bars of Endangered Species and toppings that you likely already have around your kitchen. Now add in the fact that this recipe takes about 30 minutes to whip together- and it's a done deal! The biggest step in this recipe is setting up a double broiler to melt the chocolate. I do this by putting a small pot of water on medium heat on the stove. Then you can place a heatproof bowl on top that's filled with the chocolate pieces. Taking extra care to not let water boil over into the chocolate, stir the chocolate until melted together and no large clumps remain. While there should be no big chocolate pieces left, you will see the cacao nibs studded throughout the chocolate! Once melted, you can use a normal spoon to scoop out chocolate by the spoonful. By letting the spoon tilt down steadily, the chocolate will fall into a rounded circle naturally. While the chocolate is still hot, sprinkle the toppings on each coin. Feel free to play around with the toppings, adding more than one or mixing different things together. My personal favorite was pumpkin seeds and cacao nibs, really set the October fall mood! Just make sure to create these chocolate mendiants on top of parchment paper or silicone baking sheets so that they can easily pop off. Other than that, the options are limitless and oh so delicious! Make them by the batch and store in a sealed container in the fridge or freezer for up to 4 weeks- if they last that long of course!
Dark Chocolate Mendiants
Ingredients
2

bars

(6 oz total) of Endangered Species Cacao Nibs + Dark Chocolate

chopped nuts (pistachio, almond, pecans, pine nuts)

seeds (like pumpkin, sesame, sunflower, etc)

dried fruits (cranberries, dates, cherries, etc)
Instructions
Line a large baking tray with parchment paper or silicone baking mat. Set aside.

Break chocolate bars into pieces and place into heatproof bowl. Using a double broiler* set up, melt the chocolate pieces until smooth. (Alternatively you can microwave the chocolate in 30-second intervals until smooth and completely melted.)

Use a spoon to scoop and drop melted chocolate into small rounds onto the parchment paper. By tilting the spoon steadily, the chocolate will form a natural circle. I used a large spoon to create ~2 inch wide mendiants.

Sprinkle each chocolate circle with toppings of your choice. Work quickly as the chocolate needs to be melted in order for the toppings to set.

Place the mendiants into the fridge to set faster. Once the chocolate hardens, the mendiants are set!
Notes
*To set up a double broiler, place a small pot of water on medium heat on the stove. Add the heatproof bowl on top, filled with the chocolate pieces. Stir the chocolate intermittently to allow for even melting. Take extra care to not let water boil over into the chocolate. Be careful handling the bowls as they will be extremely hot to the touch.
-For storage: place in sealed container in the fridge. Mendiants should be eaten within 4 weeks for best results!