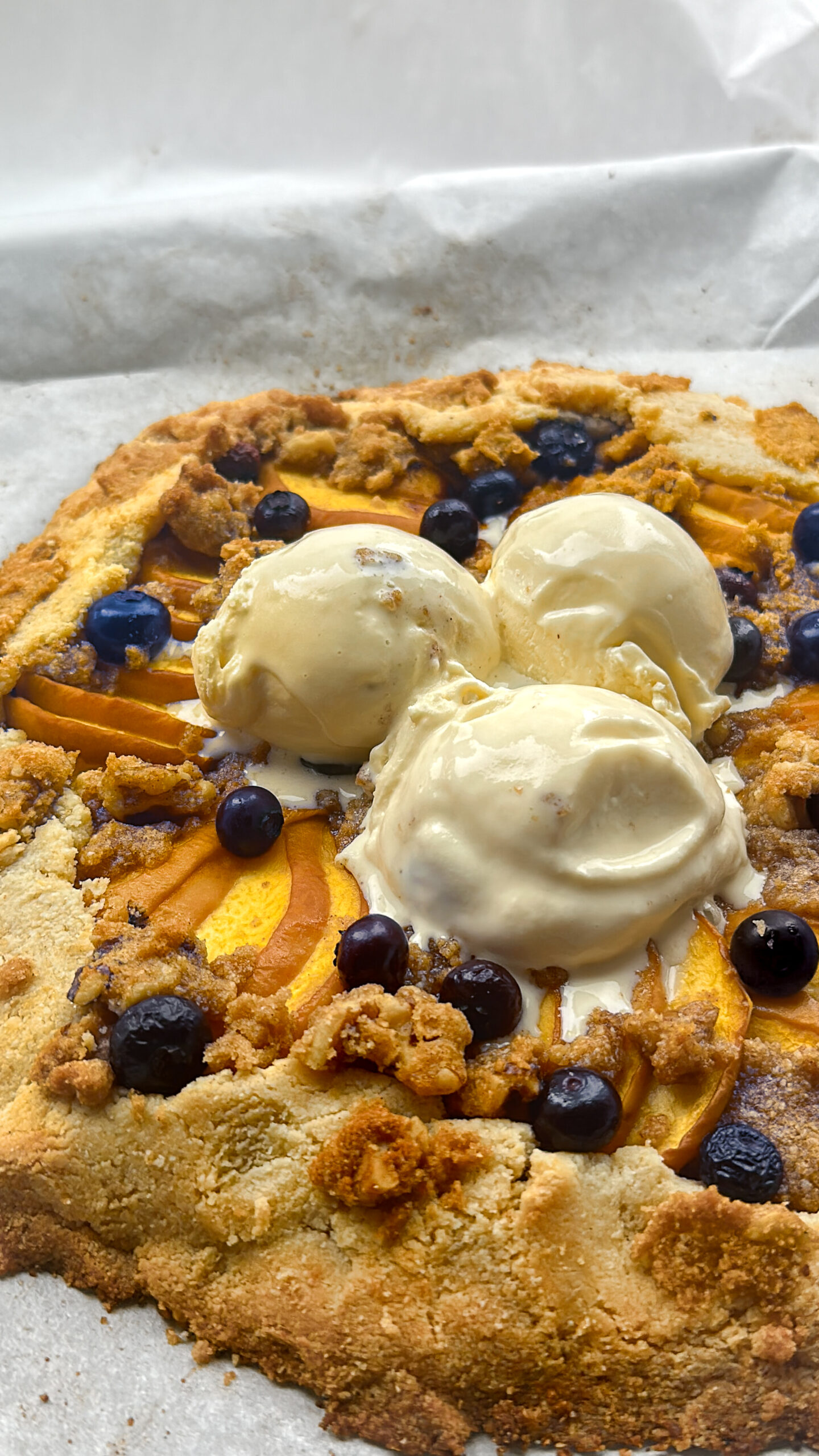 When summertime rolls around, there's no better way to celebrate those seasonal fruits than by bringing them together in a sweet dessert. And peaches? Peaches are hands-down my favorite fruit. When they're in season and juicy enough to drip down your hands at the first bite, who can resist? Paired with bursts of bright blueberries, and then topped off with nutty, cozy crumble, this is the dessert of the summer.
What's more, this galette isn't just any ordinary galette—it's made with an almond flour crust that is even more flavorful and toasted than a regular all-purpose flour crust. When it's warm and fresh from the oven, you just scoop a big pile of vanilla bean ice cream on top- and then race to finish it off before it melts completely. Spoiler: the melted ice cream sinks into the caramelized fruit and it's hard to tell which version is better tbh.
The almond flour crust is the star that sets this galette apart from others. Its subtly nutty, buttery flavor perfectly compliments the sweet, juicy filling. It's not only delicious, but also a gluten-free alternative that doesn't compromise on flavor or texture. When baked, this crust transforms into a golden, crumbly delight that holds its own against the succulent peach-blueberry filling.
As for the filling, we're talking about fresh peaches and blueberries here. The peaches provide a luscious, syrupy base with their inherent juiciness, their flavor profile lending their natural sweetness. Their delightful aroma, which highlights 'summer,' fills your kitchen as they simmer and soften in the oven.
The blueberries, on the other hand, are little bursts of slightly tart, slightly sweet flavor that pop in your mouth. When baked, these tiny gems soften and release their deep blue/purple juice, which mingles with the peaches to create a wonderfully vibrant and flavorful filling.
Adding a nutty crumble on top gives this galette a delightful textural contrast. This crumble, made from almond flour, butter, sugar, and walnuts, crisps up beautifully in the oven. The end result is a toasty, crunchy topping that makes each bite of this galette a delightful experience for your palate.
Then comes the grand finale—a scoop of vanilla bean ice cream. As it slowly melts on the warm galette, the ice cream infuses an additional layer of creamy sweetness that pairs wonderfully with the tartness of the fruits and the nuttiness of the crumble. The contrast of the cold ice cream and the warm tart is a match made in dessert heaven. If you're still not convinced, maybe this assembly reel will show you otherwise.
So really. This Peach and Blueberry Galette with an Almond Flour Crust is more than just a dessert—it's an ode to the flavors of summer. Each element, from the nutty almond crust to the juicy peaches and blueberries, the crunchy crumble, and the simple ice cream, work in harmony to create a symphony of flavors that dance on your tongue. So, go ahead and make the most of summer's bounty with this delightful dessert!
Peachy Blueberry Galette
Ingredients
For galette
2 1/2

cups

almond flour

1/4

cup

sugar

1/4

teaspoon

salt

4

tablespoon

unsalted butter,

melted

1

egg
For filling
2

whole peaches,

sliced

1/3

cup

bluberries
For topping/crumble
4

tablespoons

butter

cold

1/4

cup

walnuts,

chopped coarsely

1/4

teaspoon

cinnamon

2

tablespoons

almond flour

4

tablespoons

brown sugar
Instructions
Preheat your oven to 350°F. In a mixing bowl, add together the almond flour, sugar, and a pinch of salt. Incorporate the melted butter and mix well.

Add in the egg and mix until the dough comes together. It should create a ball of dough.

Line a baking tray with parchment paper. Place the dough on top, then layer another parchment paper on top. Then you can easily roll the dough to be about 1 cm thick. Gently remove the top parchment layer.

Add the sliced peaches and blueberries on top of the rolled dough, leaving about 1 inch of space on the edges to fold over.

With your fingers, gently lift the free 1 inch space of dough and fold over to create a border around the galette. The almond flour dough will be more crumbly than normal dough, this is normal. Gently press together edges and areas that start to crumble or separate.

In a small separate bowl, create the topping crumble. Add the cold butter, brown sugar, almond flour, cinnamon, and coarsely chopped walnuts into the bowl. Then using your fingers or a fork, mix together until it begins to resemble clumps of sand.

Sprinkle the crumble topping on top of the peaches and blueberries. Try to separate the clumps to cover about 40% of the top layer.

Bake for 20 minutes or until the crust is golden brown. Then remove from oven.

While still warm, cut even slices and top with ice cream. Serve fresh!