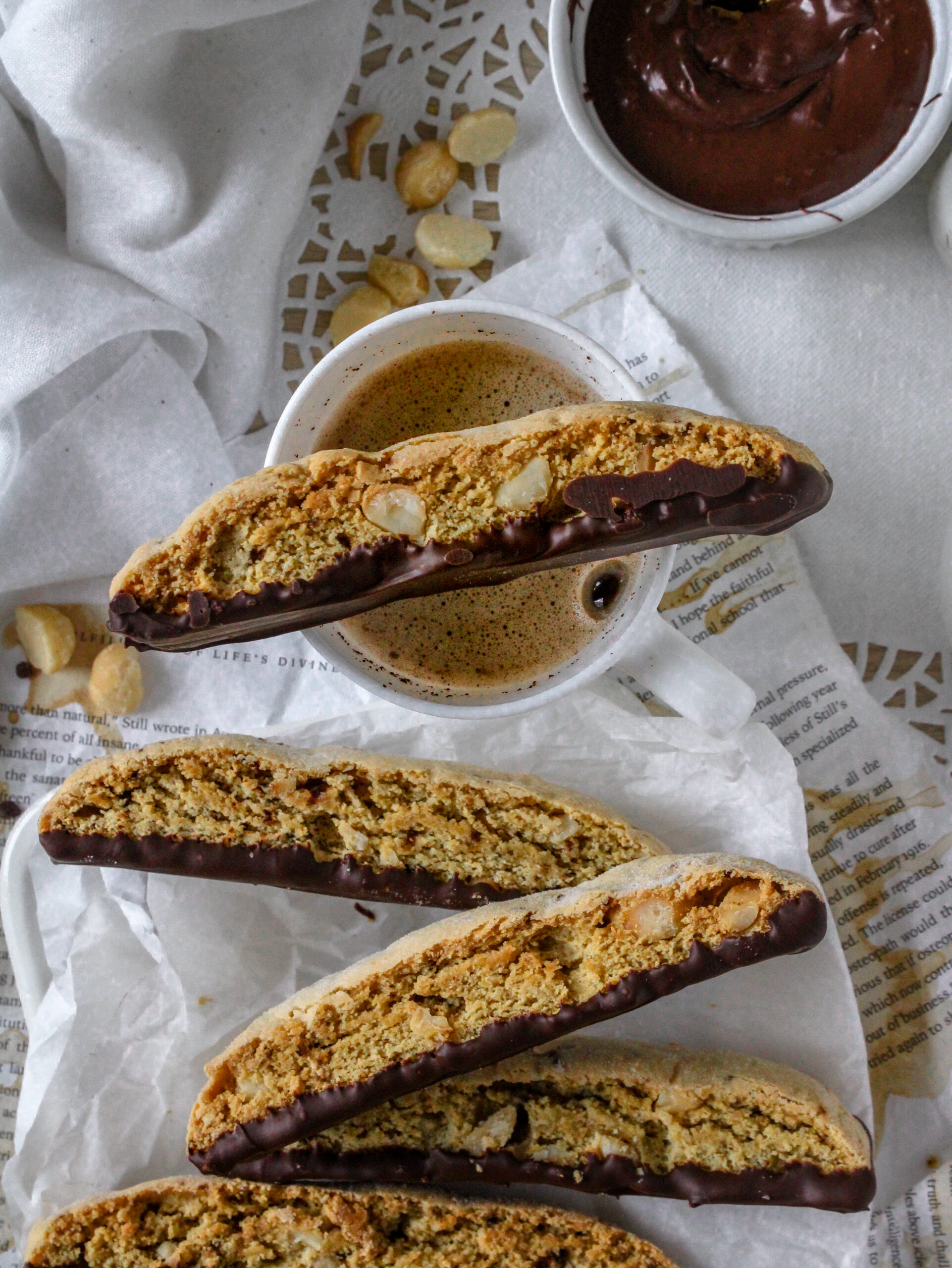 If you don't know by now, I love coffee. Any espresso drinks, any coffee flavored desserts, and any thing meant to pair with it. So naturally- biscottis never stood a chance. The perfect twice-baked treat that is toasty and chewy, and lends a sweet crunch to pair with any latte. Now add the bold crunch of macadamia nuts to biscotti and you're in for a total treat!
Years ago, I had my first introduction to biscottis. It was a simple almond biscotti dipped in dark chocolate. One bite was all it took- I was obsessed. I stuck to that biscotti for years. I eventually reproduced it to this cardamom almond biscotti and it was a total hit.
And yet, it got even better. Recently I got a big bag of macadamia nuts fresh from Hawaii! They are such a rare treat, but seriously so unique and delicious. I was so excited to start incorporating them into my baking, but I didn't want to use them in any ordinary recipes that just mask the crunch and taste of them. I started thinking up several recipes that would highlight them beautifully, and biscottis were on the top of the list! I've shared these biscotti batches with all of my friends and they agree- biscottis were always meant to have macadamia nuts! If you can get your hands on a bag of macadamia nuts, then run to the kitchen and whip up a batch ASAP!
If you've never made biscotti before- don't be intimated! As always, I aim to bake the simplest (yet deceivingly impressive looking & tasting) desserts. Biscottis 100% fall under this umbrella. The dough comes together quickly and then it's all about baking and slicing. You form the dough into a loaf and bake for about 25 minutes. Then slice the loaf into 1.2 inch thick pieces, and bake again. This allows the biscottis to bake until they're toasted and golden all over. It's truly a simple recipe, with a seriously delicious result.
Macadamia Nut Biscotti
Ingredients
1/3

cup

unsalted butter,

at room temperature

1/2

cup

granulated sugar

1/2

cup

brown sugar

2

eggs

1

tsp

vanilla extract

1

tsp

espresso powder

2

cups

all purpose flour

1

tsp

baking powder

1/2

tsp

salt

3/4

cup

whole macadamia nuts

1/2

cup

dark chocolate,

melted
Instructions
Preheat oven to 300 F. Prepare a large baking pan with parchment paper or silicone baking mat.

Using a mixer with the paddle attachment, cream together butter with both sugars until fluffy.

Add eggs, vanilla extract, and espresso powder. Mix until well combined.

Gradually add flour, baking powder, and salt into mixture. Mix until well incorporated.

Fold in the macadamia nuts into the mixture.

Dust your hands with flour and shape the dough into a log form on the prepared baking sheet. Place in oven on middle rack and bake for 25 minutes or until golden brown and firm to touch. Allow to cool for 10 minutes. Leave oven on.

With a serrated knife, slice each log into 1/2-3/4 inch thickness. Place the slices cut side up onto the baking pan again.

Bake for 10 minutes. Then remove the pan and flip the biscotti to the opposite side. Bake for another 10 minutes.

The slices should be lightly toasted at this point. Remove from oven and allow to cool completely.

Either dip the biscotti into melted chocolate or use a rubber spatula to spread the chocolate on the bottom of each biscotti. You can also drizzle the chocolate if desired.

Allow chocolate to harden, and then serve with a fresh cup of coffee! Keep remaining biscotti in a sealed container at room temperature.